Sustainable Communities
2019 North Atlantic Forum & CRRF Conference, October 1-5, 2019, St. John's, Newfoundland & Labrador, Canada
Memorial University and the Canadian Rural Revitalization Foundation (CRRF) and its North Atlantic partners will be hosting the 2019 North Atlantic Forum and CRRF Conference at Signal Hill Campus, St. John's, Newfoundland & Labrador, Canada.
Join rural practitioners, researchers, government, business and non-profit representatives for inspiring presentations, breakout sessions, and interactive discussions on the stresses and solutions of sustainable communities.
As the conference nears, we are very excited to announce our opening Keynote Panel, scheduled for Tuesday, October 1, 2019 – 7:30pm.
Keynote Panel – Rural–Urban Interaction
The rural and the urban need each other, but they also need to understand the relationship between them if they are to prosper in the 21st century. Our opening panel will explore new ways of understanding the differences, and dependencies, between rural and urban populations. In the age of globalization, climate change, and just-in-time deliveries, what do rural and urban need, want, and expect from each other?
Keynote Panelists:
Zita Cobb is Fogo Islander, an entrepreneur, community champion and a force behind Shorefast Foundation and some of the most exciting rural and small island development initiatives in Canada and in the world. She is an unabashed lover of islands and community champion who brings her energy and thoughtfulness to every project that Shorefast Foundation initiates. Here is Zita's profile: https://www.shorefast.org/about-us/
Brian Dabson comes from the School of Government at the University of North Carolina and his work focuses on rural and regional development and resilience with an emphasis on regional strategies that bridge rural and urban places. Here is a link to Brian's profile: https://www.sog.unc.edu/about/faculty-and-staff/brian-dabson-0
Bill Reimer is professor emeritus at Concordia University in Montreal. More importantly, Bill is one of the most knowledgeable people about rural Canada and rural issues you will ever have a pleasure to meet. Former president of CRRF and a lead researcher on numerous projects examining various aspects of rural. Here is Bill's profile: https://www.concordia.ca/artsci/cissc/faculty.html?fpid=bill-reimer
Welcome to St. John's, NAF-CRRF Conference Participants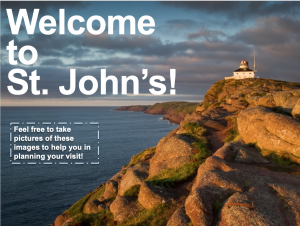 While you are in Newfoundland and Labrador's capital city, you might be interested in checking out some of the great local walks, cafes, restaurants, breweries, and souvenirs. See here for details on some of the recommended local spots.
Special Hotel Rate for Conference Participants – ALT Hotel – St. John's, NL
We have secured a Flash Sale Special Booking Rate of $125-$140 plus tax, at the beautiful new ALT hotel for CRRF/NAF Conference Attendees!
Book by phone 709-383-2125 using Group Attendee Code: MUN2019
The rate is subject to room type and availability; A limited number of rooms have been held until Sunday September 1st however the special rate will be available until Monday September 9th(availability not guaranteed).