Welcome to St. John's, NAF-CRRF Conference Participants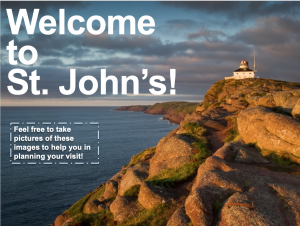 While you are in Newfoundland and Labrador's capital city, you might be interested in checking out some of the great local walks, cafes, restaurants, breweries, and souvenirs.  See here for details on some of the recommended local spots.
—————————————————————————————————————
Travelling to St. John's is easy and accessible through major airlines from any  location.
Airport Code for St. John's, Newfoundland – YYT
St. John's is a special place. It is  the capital of Newfoundland and Labrador, and the province's largest city, but despite that, this city has a distinctly welcoming feeling.
You'll want to dress for the weather, which can change throughout the day. A day in October can be sunny and warm, then windy and cool, then a bit rainy, and then warm again, all within a few hours. We recommend lots of layers, including a waterproof jacket and sturdy footwear for exploring Signal Hill.
That said, there are plenty of places to dress up too (we don't wear rubber boots all the time!). St. John's has a reputation as a musical city and is also becoming more and more well known for our restaurants. We recommend that you book well in advance at some of the hot spots (including place like Raymonds and Mallard Cottage.) In most situations though, you should also be able to find a welcoming and tasty spot to eat just walking in off the street.
Accommodation 
Special Hotel Rate for Conference Participants – ALT Hotel – St. John's, NL
We have secured a Flash Sale Special Booking Rate of $125-$140 plus tax, at the beautiful new ALT hotel for CRRF/NAF Conference Attendees!
Book by phone 709-383-2125 using Group Attendee Code: MUN2019
The rate is subject to room type and availability;  A limited number of rooms have been held until Sunday September 1st however the special rate will be available until Monday September 9th(availability not guaranteed).
There are a number of hotels close to Memorial's Facility on Signal Hill where the conference is being held. Several are within walking distance but keep in mind that the walk involves a steep "hill" and it can be quite breezy in October. Airbnb is also a good option here, especially if you're interested in staying in one of the iconic colourful rowhouses that St. John's is known for.
The Alt Hotel is located right on the harbourfront of downtown St. John's and a number of room have been blocked booked for the conference. Please use the code MUN2019 when booking. It's a brand-new hotel and right in the middle of the shops and restaurants.
For more information about planning your trip, we recommend that you take a look at the Provincial Government's tourism site.
Conference Location:
The North Atlantic Forum/CRRF 2019 Sustainable Communities Conference  is being held at Memorial University's beautiful Signal Hill Campus on historic Signal Hill. The campus is located at 100 Signal Hill rd. overlooking both the harbour and the city.
Make sure to clarify that your headed to the Signal Hill Campus, since St. John's is also home to Memorial's main campus.
Parking:
Please note, free parking is not available on-site, and pay-per-use parking is limited.
Pay-per-use guest parking is available at Signal Hill Campus by using the Passport Canada mobile app (available on Google Play Store or Apple Store) or online (https://passportca.com/park/).
There are only 2 pay-per-use guest lots available:
• lower lot Zone 201
• middle lot Zone 200
Weather:
The rumours are true: our weather can be a bit wonky sometimes! Your best bet is to check the forecast before you come and pack plenty of layers. Raincoats are a must, but umbrellas tend not be useful because of the winds that tend to accompany fall showers.
We do recommend bringing some sturdy footwear if you're planning to do much walking, or if you'd like to explore the stunning hiking trails that surround Signal Hill Campus.